2006-10-13 - 11:35 a.m.
"Aunt" Mary or Tia Maria is my mother's best friend. She is a holy person but her family is split up and she is poor. She lives in a bad place called Cahokia, Illinois. "Aunt" Mary loves us very much and she prays for us all the time. We love her very much and we pray for her, too. She is not our real aunt but our real aunts don't talk to us. I wish "Aunt" Mary would come live with us but she wants her real family all together. Her children are grown-ups but they don't always mind the Lord.
"Aunt" Mary sent us a lot of cards lately and she says we can share them so I am going to share them with you. I love her cards because they are nice and they talk about nice things. She left some letters out of some of her words but Mom said she is weary from grief. She puts so much love in her letters and phone calls that I want to give her all my money from the tooth angel. Mom said she wouldn't want me to do that but I'm going to try to do it anyway. She's just like people you see in movies who are very poor but they tenderly love everybody.
This first card is a thank you note she sent us for her birthday gift.
This card for George's birthday has a funny picture with the candles.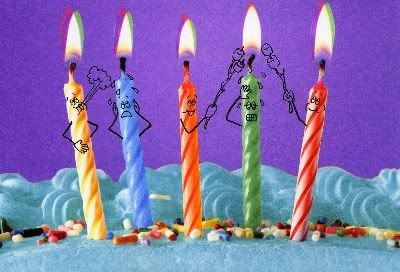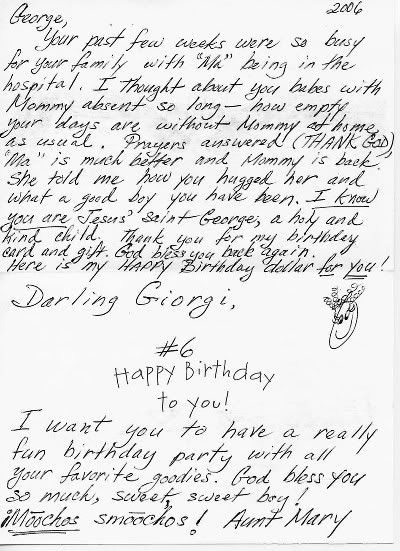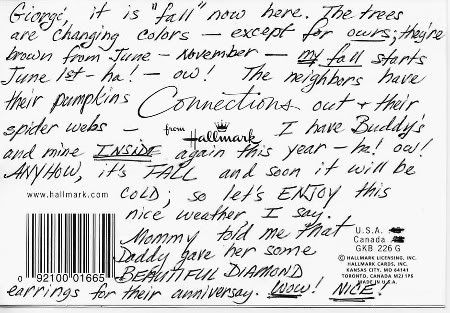 This is Richard's birthday card. He and George each got a nice clean dollar. Every time she puts a piece of money in a card it is really clean and crisp.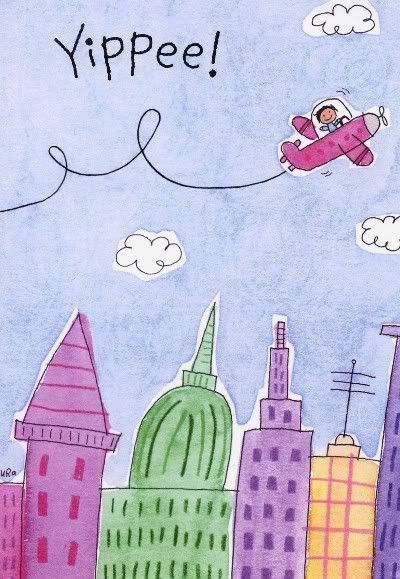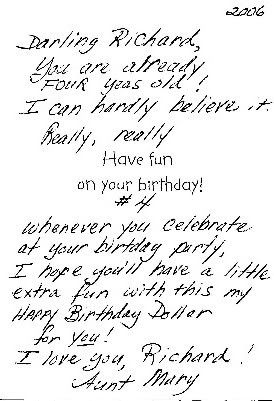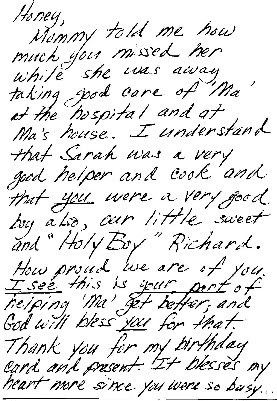 This next card is for Sarah Grace but it wasn't for her birthday. Sarah's birthday is in May. Last year for Sarah's sweet sixteen birthday Aunt Mary started sending her pieces of beautiful blue and white china. First she got a creamer and a sugar bowl and she just now got a big teapot. Sarah LOVES it because she loves china and tea and pretty things.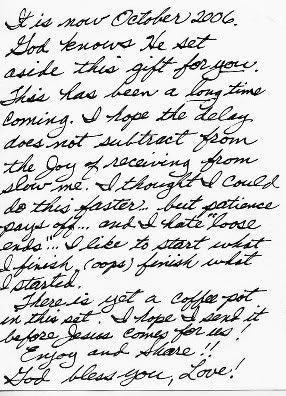 "Aunt" Mary speaks Spanish to us because we study Spanish and she is fluent which means she can speak it like a Spanish person.

I hope you enjoyed her cards because they are special and she is special.


|